The following article contains

HEAVY SPOILERS

! Read on at your own caution!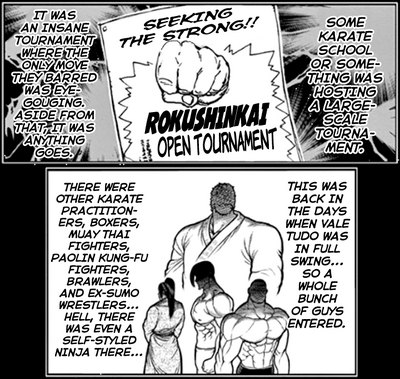 The Rokushin Kaikan Tournament (六真会館トーナメント, Rokushinkaikan Tōnamento) was a no-holds-barred tournament hosted by the Rokushin Kaikan school of karate that occurred during the events of Fist of the Seeker.
History
The Rokushin Kaikan hosted a national karate-only tournament which was won by Rokushin Kaikan karateka Narushima Joji.[1] However, the notable result of the tournament was that Ikeuchi Mentaro, an outsider, managed to make it into the Best 8 (ベスト8, Besuto Hachi) something which no outsider had ever achieved before.[2] He was defeated by Yamada Kentaro, one of the Best 4 (ベスト4, Besuto Yon).[1][3]
Tournament
Seven months after the previous tournament, Ao Kenji, the director of the Rokushin Kaikan, decided to host another tournament in eight months time (due to the previous tournament's financial success as well as by Ikeuchi's surprising performance in said tournament). The winner of the tournament would receive ¥2,000,000.[1]
The tournament featured sixteen outside participants and sixteen Rokushin Kaikan karateka. All outside participants that applied to fight in the tournament fought in preliminary rounds until only fifteen were left; the sixteenth outsider spot was reserved for Ikeuchi Mentaro.[1]
The rules for the tournament were as follows:[3]
5 minute matches; victory is decided by knockout, forfeiture or judges' decision.

If a victory cannot be decided in the main match, there will be a 5 minute overtime.
If a victory cannot be decided in the overtime, there will be an additional 5 minute overtime. If victory still cannot be decided after additional overtime, a decision will be made by the must system.

Intentionally striking the eyes counts as a foul. All other attacks are allowed.
Round 1
Round 2
Quarter-Finals
Semi-Finals
Finals
References