For an episode list by Seasons, see Episodes.
---
Kengan Ashura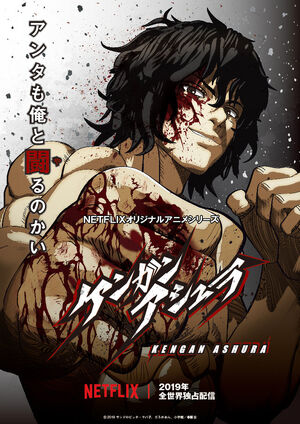 Information
Title
ケンガンアシュラ
Director
KISHI Seiji
Original Run
??
Produced
LARX Entertainment
Episodes
TBD
Genre
Martial Arts / Action / Shōnen / Comedy / Drama
Kengan Ashura (ケンガンアシュラ, Kengan Asura) is the upcoming anime adaptation of the manga of the same name. The anime adaptation is planned to air 31st July 2019 and will be produced by LARX Entertainment (a subsidiary of Studio Hibari).
Plot
Since the Edo periods of Japan, gladiator arenas exist in certain areas. In these arenas, wealthy business owners and merchants hire gladiators to fight in unarmed combat where winner takes all. Tokita Ohma, nicknamed "Ashura", joins these arenas and devastates his opponents. His spectacular ability to crush his enemies catches the attention of the big business owners, including the Nogi Group CEO, Nogi Hideki.
Voice Cast
Staff
Notes & Trivia
The opening theme will be "King & Ashley" by MY FIRST STORY.
External link
Community content is available under
CC-BY-SA
unless otherwise noted.