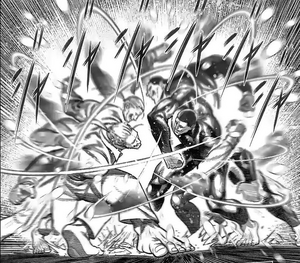 Formless (無形, Mukei) is a wild, unorthodox style created by The Other Tokita Niko. Kanoh Agito and Lu Tian are currently the only known users of the stance.
About
Though it is unknown how The Other Tokita Niko came to create the stance, it is prized as his greatest creation, surpassing the two Niko Style secret techniques Fallen Demon and Possessing Spirit.
The Formless stance is not like a normal style, as instead of a singular fighting one, the user has a wide repertoire of moves that one can draw from at any time.
This style is "taught" by placing all candidates into human Gu rituals. Those who survived were taught by The Other Niko to refine the style further. There are also two known generations of the Formless stance: The First Generation, who were taught both the Formless stance and the Niko Style, and the Second Generation, who were taught only the Formless stance.
Known Users
Creator
Users
Notes & Trivia
The style has once been compared to Systema by Himuro Ryo, as they both require the user to be highly flexible and focuses on adaption.