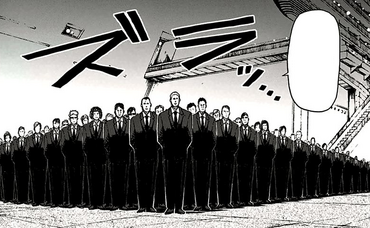 The Bodyguards (護衛者, Goeisha) are Katahara Metsudo's personal army. They are the Chairman's shield, and together with the Fang of Metsudo, they form half of the force that keeps Metsudo in power. They also serve as a pool from which Metsudo will choose his next Fang.
About
The Bodyguards are a massive institution for a personal army, numbering at 500, and they are divided into eleven squads, each of which is led by a captain. Rank-and-file Bodyguards are usually tasked with security detail; in the tournament, they also provide surveillance to ensure compliance with the rules. Each of the Bodyguards can easily match an average Kengan fighter in combat, though the Annihilation Tournament fighters can hold their own against them.
In addition to the eleven squads, there is a special task force called the Extermination Force. This team of four is led by Katahara's son, Retsudo, and they are reserved for special assignments. Each member of the Extermination Force can easily outdo a Bodyguard captain.
Finally, Metsudo has two personal bodyguards that protect his person: Omori Masamichi and Takayama Minoru, who are the fourth Fang of Metsudo and the closest contender to become the sixth Fang of Metsudo (at the time), respectively. Together with Kanoh Agito, the fifth Fang of Metsudo, they were known as the "Three Crows" (三烏, San karasu).
After the events of the Kengan Annihilation Tournament, the Heavenly Wolves became part of the Bodyguards as one of its special forces.[1]
Most of the Bodyguards were orphans, who were taken into Katahara Metsudo's tutelage as children and trained to become fighters, with only the strongest being hired as Bodyguards.[2] However, there are some rare exceptions, such as Yoshioka, who joined the Bodyguards as an adult and previously worked as an assassin.[2]
The Bodyguards all dress in flat black suits, white shirts, and ties. Several captains and Extermination Force members have unique accessories to distinguish themselves.
Known Members
Katahara Metsudo's Personal Bodyguards
Captains
Others
Notes & Trivia
The Bodyguards are known only by their codenames, a system implemented by Metsudo because "it's cool, like a spy movie". The majority are named after locations within the Tottori Prefecture, with some exceptions.[3]

J was not named after a location within Tottori, but was instead named after the initial of Sandrovich Yabako's friend's nickname.[4]
References